AFVK SP MH/L SPLIT Valve Kit

Gas Log / Fireplace Valve Kit With High-Low Continuously Variable Flame Remote / Electronic Pilot Ignition / For Vented Gas Logs
AFVK SP MH/L SPLIT Gas Log Valve Kit With Remote and Receiver

List Price

You Pay Only
What is the New Split Series?

The original AFVK-SP-MHL Series continues to sell well but is limited in application due to the size of the kit. The metal housing on the original kits measures 3 3/4" wide and require 4" clearance to the burner pan. The physical size of the metal housing looks awkward in some smaller firebox applications where the logs must be offset from center.

The new "Split" series has two metal housing boxes that measure 2 3/4" wide and require 2" clearance to the burner pan. One metal housing has the electronics and the other has the gas valve which are connected by a high temperature wiring harness. The new split series provides a more balanced looking installation. It also can allow a slightly larger burner pan to be installed & the two metal housing boxes can be disguised or hidden by the fire screen on each side of the firebox

If you draw out a 36" firebox with a 24" burner pan, use the specified clearances, you will see the size advantage of the split system.
AFVK-SP-MH/L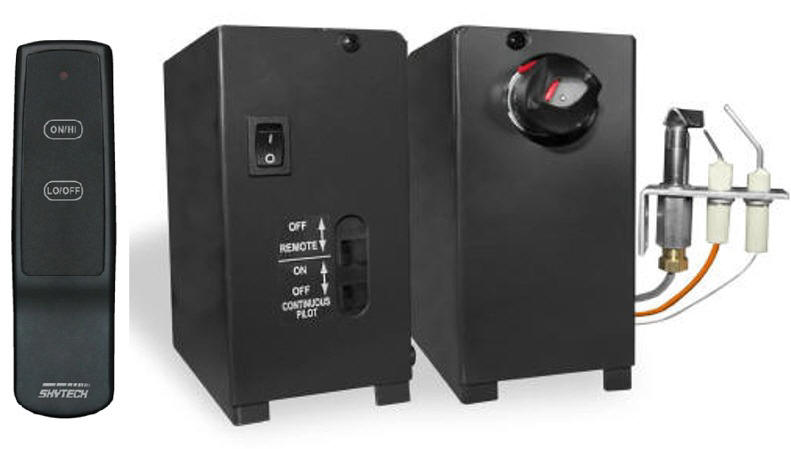 Split
Spark to Pilot Valve Kit measures
3 3/4" W X 5 1/2" D X 5 1/2" H
ON/OFF/High/Low remote control included
Infinite flame adjustment from remote control
Continuous pilot switch on valve and remote control
Damper clamp included
Propane conversion kits are available